Razorbacks Coaches to Lead Team Alberta U19 Women's Field Team
---
---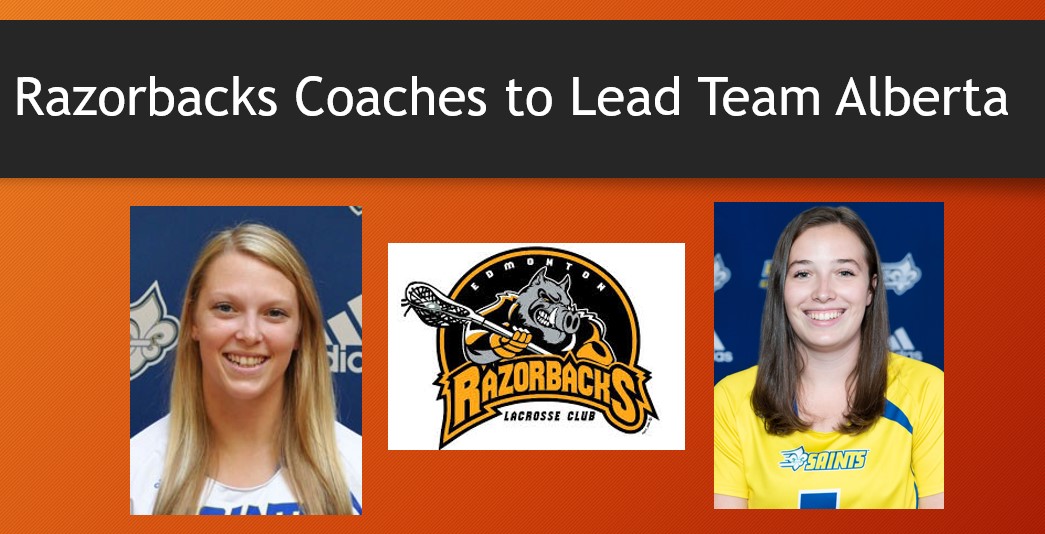 ---
The Razorbacks wish to congratulate our Director - Girls Lacrosse, Sarah Lehman, and Assistant Coach, Britannie Ouimet, on being named to the coaching staff for Team Alberta U19 Women's Field. Lehman will serve alongside Lesley Hawke (Calgary, AB) as the Head Coach of Team Alberta, while Ouimet will act as the team's Assistant Coach.
Coach Sarah Lehman (née Oor) has worked with the Razorbacks for many years. She is also an instructor in the women's field lacrosse program at Edmonton Vimy Ridge Academy. Her wealth of experience and expertise will be a valuable asset to Team Alberta. As a player, Sarah has been a member of Team Canada's U19 team where she was named Team Captain and led her team to a bronze medal in the 2011 World Cup in Hanover, Germany. Sarah was also a standout with Limestone College in South Carolina, where she was named an All-American in 2013 and 2014. As a coach, Sarah has worked with Lacrosse Wales and Lacrosse UK as a coach and served as the Women's Field Lacrosse Coach at the Godolphin Preparatory School in Salisbury, UK. Closer to home, Sarah coached the Team Alberta girls field lacrosse team in 2017 and 2018 and has coached with Northstrong and Apex Lacrosse.
Coach Britannie Ouimet brings a wealth of experience to the role of assistant coach for Team Alberta. As a player, she was a two-time member of Team Alberta Box Lacrosse and a silver medalist at the 2015 Canadian Box Lacrosse Nationals. Britannie completed a stellar career in the NCAA in 2021, playing for Limestone College where she amassed career honours and accomplishments including being named to the 2021 IWLCA Second Team All-American, 2021 IWLCA First Team All-South Region, and the 2021 All-South Atlantic Conference First Team. Britannie has coached for the Razorbacks as well as Northstrong Lacrosse.
Congratulations to Coach Sarah and Coach Brit! Good luck to Team Alberta on the road to the 2022 Women's Field Lacrosse National Championships!